Join the Fait Team
---
Our Culture
Fait is a B2B wholesale contact lens distributor, buying group, and optical lab. We aim to provide excellent service by exceeding customer expectations, while providing our associates an environment where they can excel and feel appreciated.
Become part of something special
Our customers come first, but we also value our employees and their needs. We've worked hard to build a great workplace culture – because the happiness of our associates results in appreciative, loyal customers. We aim to display a professional image to our customers that communicates confidence and enthusiasm.
We are proud of the character of our associates, and we believe that you will find your work here both challenging and rewarding. We host frequent lunch parties and team building activities to show our appreciation and help our employees feel more like a family.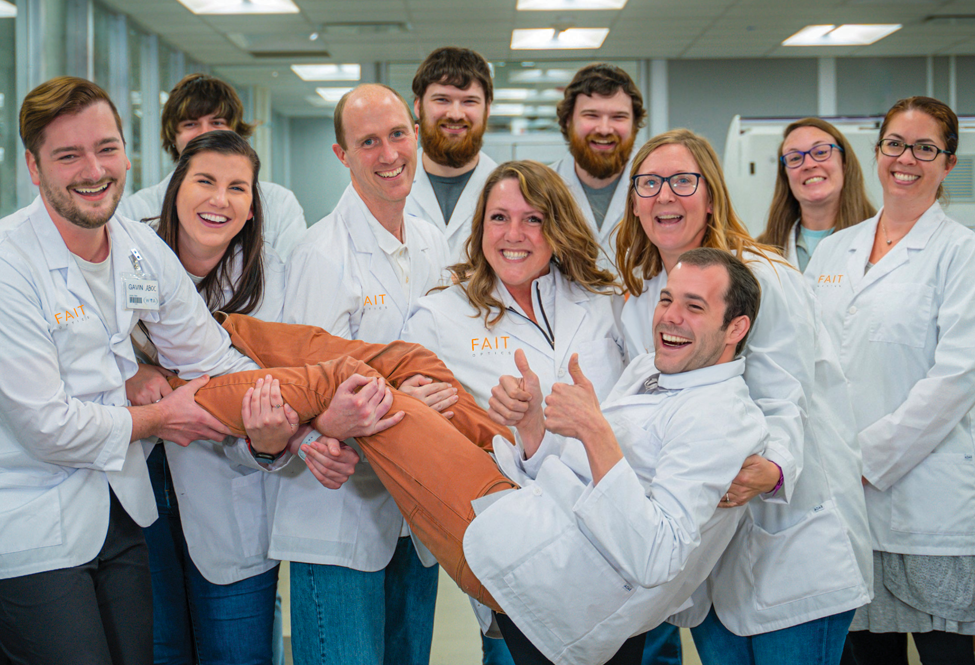 "Discover a job experience where work-life balance is valued. The culture is warm, welcoming, and respectful. We are seeking high-integrity people who enjoy working hard, for each other."
- Tara Halbur, Head of HR
---
Our people are our family
We are devoted to creating opportunities for ALL individuals within our community.
We are actively seeking talented and motivated individuals to fill positions. We are growing quickly! New job openings pop up often. Contact us at hrhelp@faitco.com to discuss possible opportunities.
Fait Companies Benefit
We offer flexible hours to help maintain a healthy work-life balance. In addition, full-time associates are eligible for a generous, comprehensive benefits package that includes health, vision, life, and dental coverage. Plus, a 401(k) with a significant company match contribution. Our associates also enjoy other perks such as free contact lenses, frequent vouchers for discounted footwear, and on-site amenities (free soda, coffee, and snacks).
Ready to join the Fait team?

It is the policy of Fait to provide equal employment opportunity, to all individuals, regardless of race, creed, religion, sex, age, marital status, ancestry, arrest or conviction record, sexual preference, national origin, disability, veteran status, or other area of prohibited discrimination.